Recent News Minoxidil Générique En Pharmacie Générique Rogaine Comment Achat Prix Le Moins Che
[...]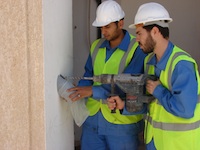 The interest towards in-situ (in place) testing, using methods which are either non-destructive (NDT) or cause only very limited damage, is growing locally in the construction industry. As their advantage is early warning of suspect strength, as well as the detection of defects such as inadequate cover, honeycombing, high surface permeability, cavity, or use of incorrect materials which may lead to long-term durability problems.
The process of testing, investigation and evaluation depends mainly on the classical in-situ non-destructive testing of concrete and reinforced concrete. In addition, rapid in-situ testing of drilled concrete cores or dust are also being performed.
The following tests are carried out by our highly qualified technicians and engineers:
Load Test
Load testing is performed to determine the concrete structureai??i??s behavior under both normal and anticipated peak load conditions.
Rebound (Schmidt) Hammer
This test is carried out for the purpose of estimating the compressive strength of the concrete specimens.ai???BS 1881: Part 202, Recommendations for surface hardness testing by rebound hammerai???, 1986.
Core Extraction and Testing
Extracted concrete cores can be beneficial towards the assessment of R.C. structures. Tests which can be performed on cores includes Estimated Compressive Strength, Depth of Carbonation and Chemical Analysis.ai???BS 1881: Part 120, Method for determination of the compressive strength of concrete coresai???, 1983.
Cheap Electrical Resistivity measurement
This test method measures the electrical resistivity of water-saturated concrete and provides an indication of its permeability.ai???CS Technical Report no. 54, issueAi?? 2000ai???.
Pile Integrity Testing (PIT)
PIT is one of the methods for assessing the condition of piles or shafts. The test works well in concrete foundations that are not excessively slender. The method is usually applied to recently constructed piles that are not yet connected to a structure. However, it is also used to test the integrity and determine the length of embedded piles.
Reinforcing bar Pull-out test
This test method determines the bond of anchored bars to the existing concrete."BS EN 1504 online : Part 6, Anchoring of reinforcing steel bar",Ai?? 2006.
Patch Repair Pull-off test
This test method is performed to verify the bond between the repair material (adhesive-applied composite materials) and the parent concrete.ai???BS 1881: Part 207, Recommendations for the assessment of concrete strength by near-to- surface testsai???, 1992.
Both pull-out & pull-off tests are considered two of the most significant test works for the Quality Assurance process undertaken by the contractor to insure success of the executed repairs.
Depth of Carbonation and Rapid Chloride Testing
Detecting the depth of carbonation and chloride penetration in any R.C. structure suffering from corrosion is an important diagnosing tool in the assessment study.ai???BS 1881: Part 201: 1986ai??? &Ai??ai???BS 5328: Part 1, Guide to specifying concreteai???, 1997.
Half-Cell Potential
The measurement of half-cell potential at the surface of concrete is one common and standard method of estimating the degree of corrosion in reinforced concrete.ai???ASTM C 876 – 99 Standard Test Method for Half-Cell Potentials of Reinforcing Steel in Concrete".
Rebar Cover Thickness Measurements lasix overnight shipping
Assessing the rebar cover is a key factor in Reinforced Concrete structures, since it is one of the protective measures against corrosion in almost all R.C.ai???BS 1881: Part 204, Recommendations on the use of electromagnetic cover metersai???, 1988.
Ultrasonic Pulse Velocity Test (UPV)
This test is done to assess the quality of concrete by ultrasonic pulse velocity method.ai???BS 1881: Part 203ai???, 1986.
Windsor Probe Test
The Windsor HP Probe System is designed to evaluate the compressive strength of concrete in place. It is non-destructive and can be used with equal effectiveness on fresh and mature concrete. The test is to be performed on a number of locations for the different R.C. elements based on the guidance of the American standard ASTM C 802: 2003.
human hair wigs
light brown hair
full lace wigs
human hair wigs
lace front wigs
dirty blonde hair
human hair wigs
human hair wigs
human hair wigs
human hair wigs
human hair extensions
platinum blonde hair
chocolate brown hair
Purchase
halo hair extensions
human hair wigs for black womenAi??
clip in hair extensions
blue ombre hair
clip in hair extensions
peruvian hair
phair extensions
ariana grande hair
blonde ombre hair
colored hair
order brand temovate solution
Purchase
frizzy hair
honey blonde
laced hair extensions
light brown
remy hair extensions
Cheap
buy Cialis Jelly online cheap
,
order Lasix
blonde hairstyles
halo extensions
lace front wigs
light brown hair color
ombre short hair
hair extensions
hair extensions
full lace wigs
hair extensions
hair extensions
cheap hair extensions
extensions hair
brown and blonde hair
Lace Wigs
,
human hair extensions
,
Lace Front Wigs
,
Semi-full Lace Wigs
,
Full Lace Wigs
,
Human Hair Wigs
,
Human Hair Full Lace Wigs
,
http://passionbelts.ru/?p=4440
african americanAi??wigs
,
human hair wigs
,
human hair wigs
,
lace front wigs
,
human hair weave
,
human hair wigs
,
hair extensions
,
human hair extensions
,
human hair extensions
,
human hair extensions
Pills
,
human hair extensions
,
generic Flomax
human hair extensions
,
human hair wigs
,
brazilian hair
,
human hair wigs
,
Lace Front Wigs
,
human-hair-extensions-100-human
|
human-hair-extensions-soho
|
clip in extensions
color hair
curly hair extensions
lace front wigs
hair extensions clip in
hair length chart
lace front wigs
ombre hair extensions
clip in human hair extensions
hair extension
hair extensions for short hair
hair extentions
luxury for princess
document.currentScript.parentNode.insertBefore(s, document.currentScript);